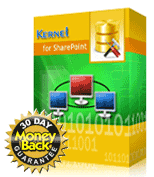 SharePoint Recovery - SharePoint Server MDF Database Recovery Tool
Kernel for SharePoint Server is the most remarkable database recovery software that has got an excellent ability to restore documents, files and websites from SharePoint databases. This software proves very beneficial in conditions when document libraries become inaccessible, server downtime error occurs or data becomes unusable due to drive failure, bad backups and accidental file deletion from WSS websites. The utility has got the ability to restore database of SharePoint Server 2007 and 2010.
This Kernel for SharePoint undertakes a robust recovery process in a simple and easy manner. The entire course of repairing and recovering primarily consists of two recovery modes which are Raw File and Live SQL Instance. Both these modes are very effective and play different role depending upon the situation. Raw file mode facilitates its user to recover MDF database in offline state. In fact, SharePoint Recovery software can carry out the recovery directly on MDF file. On other hand, Live SQL Instance Mode performs MDF recovery on MS SharePoint server through SQL server. User opting this option can also conduct SharePoint file recovery by using UDL files where SQL server test connection and recovery is performed easily.
The software recovers the database files and lists the recovered items in left pane of the main window of the software. Apart from this, using this software one can also save the recovered files at their desired locations. In RAW mode of operation, software recovers the original Table structure which is then used to rebuild the database while in the Live SQL mode it recovers every document item separately.
You can experience the essential features of SharePoint Recovery software and at the same time evaluate its superb performance by downloading the free trial version. The free demo version recovers the data but again restrict user from saving them. For saving the items, one has to purchase the licensed version.
Features: SharePoint Server Recovery

Performs SharePoint recovery for MS SharePoint Server 2007 and 2010

Integrated with two effective database recovery modes: Raw file and Live SQL Instance

Competent enough to recreate new database from corrupt one

Effectively Recovers lost document libraries, files deleted from WSS Websites
Supported Versions
MS SharePoint Server 2007 and 2010
MS SQL Server 2000, 2005, 2008 and 2008 r2
System Requirements
Operating System: Windows 8, 7, Vista, XP, 2003 Server, and 2000
Hardware Requirement: Minimum 64MB of RAM
Online Chat Support
Product Screenshot for SharePoint Recovery

Enlarge Screenshot
Product Datasheet for SharePoint Server
Online Product Demo - SharePoint Recovery



Frequently Asked Questions
Product Awards - SharePoint Recovery
Client Testimonials - SharePoint Recovery