After discussing the ExMerge application and PowerShell cmdlets free methods to convert EDB to PST, we can say that these methods are useful but lengthy and complicated. To overcome these limitations, we are going to discuss another manual way to export EDB to PST, i.e. exporting via Exchange Admin Center. This free EDB to PST conversion method is useful for exporting EDB data from the latest versions of Exchange (2013 and above) to PST. It is the simplest manual way to export the Exchange mailboxes to the defined destination.
Try Kernel for Exchange Server Recovery to simplify the EDB to PST conversion process. Just add the EDB file (healthy or corrupt) to the tool and export mailboxes to PST files. You can perform Exchange/Office 365 migrations as well.

Prerequisites for EDB to PST conversion
Before starting the manual EDB to PST conversion process, the user must consider the following requirements:
The user must create a shared folder to export the mailbox data
Must assign Mailbox Import Export Permission to the Mailbox performing the export. This can be done by–

Open EAC and click Permissions> admin roles. Open Recipient Management by clicking it. In Role, select Add.
In the Select a Role page, click Mailbox Import Export. Then select Add, and click OK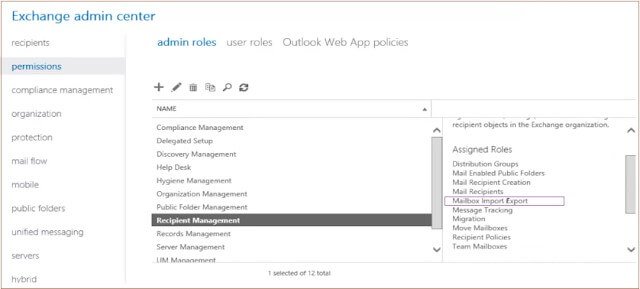 Convert Exchange mailboxes to PST using Exchange Admin Center
To convert EDB mailboxes from Exchange Server 2016, follow the steps:
Step 1. Open Exchange Admin Center, go to recipients, and then select mailboxes. You will get a complete list of mailboxes.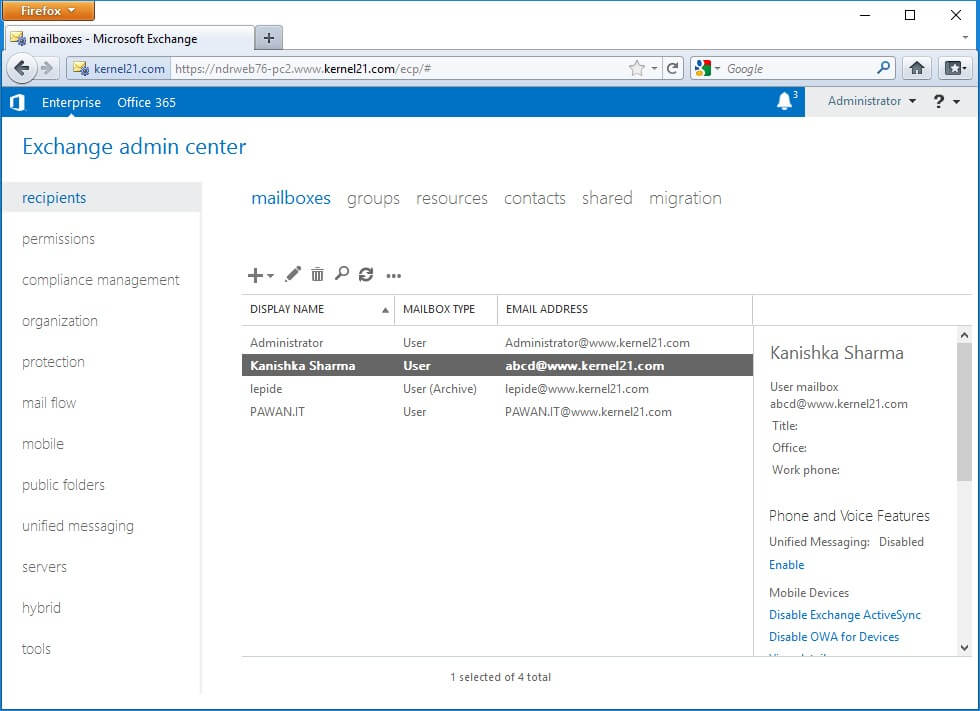 Step 2. Right-click the mailbox you want to export and select the Export to a PST file option.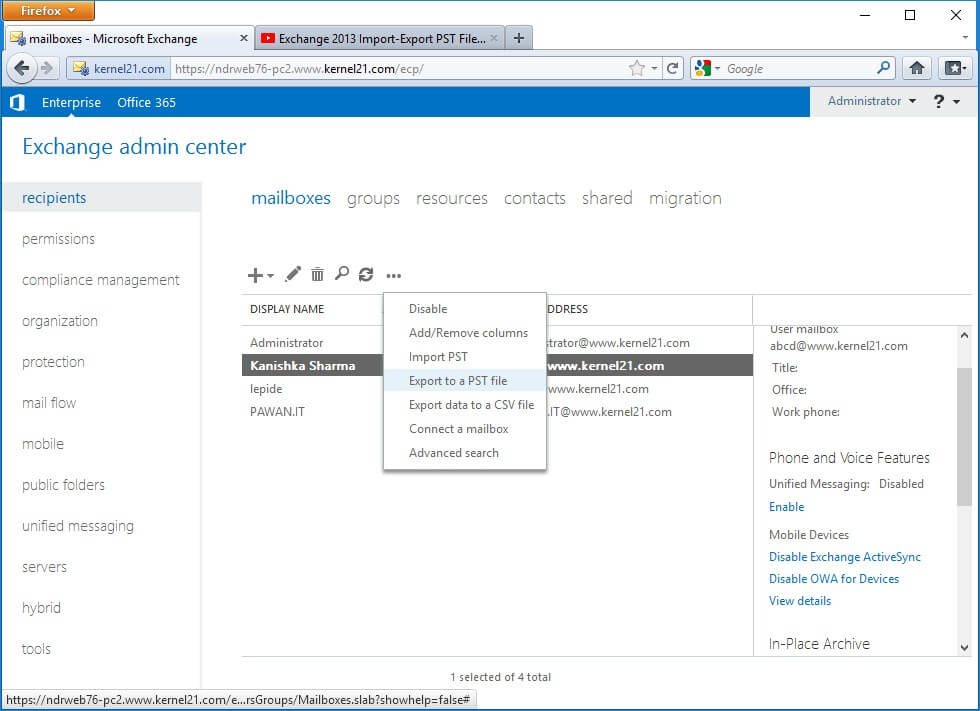 Step 3. In Export to a .pst file dialogue box, Browse and select the required mailbox. Select the desired option and click Next.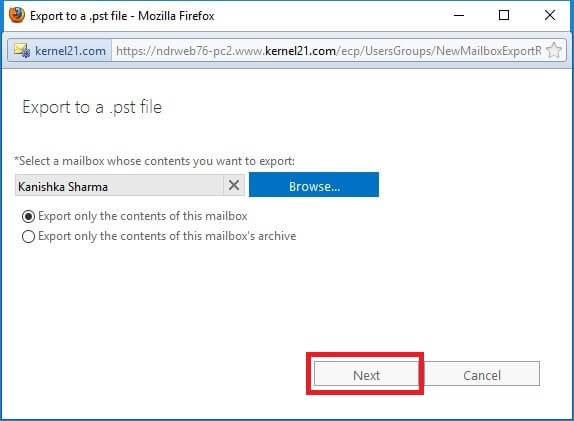 Step 4. Provide the destination where data needs to be saved. Click Next to continue.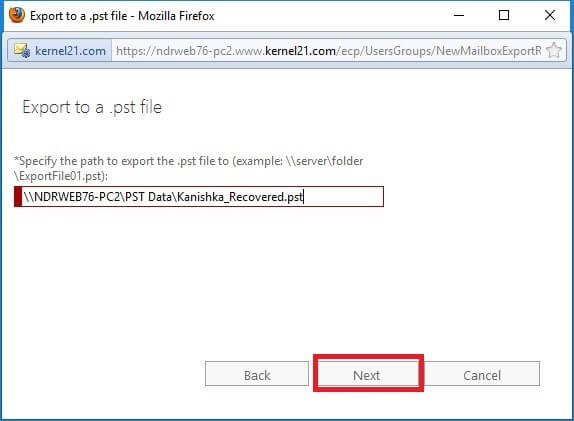 Step 5. Select the given checkbox and provide a mailbox name to receive the email notification.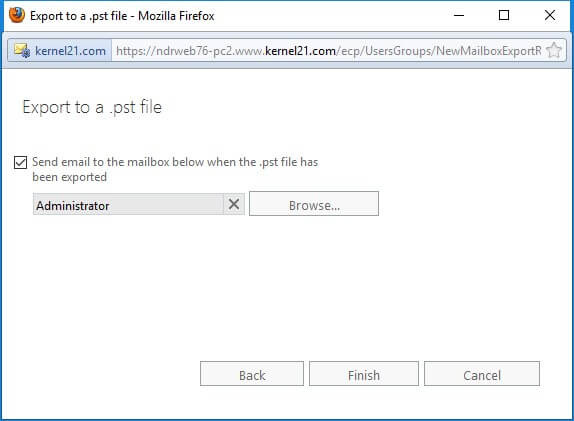 Step 6. Now, click the Finish button.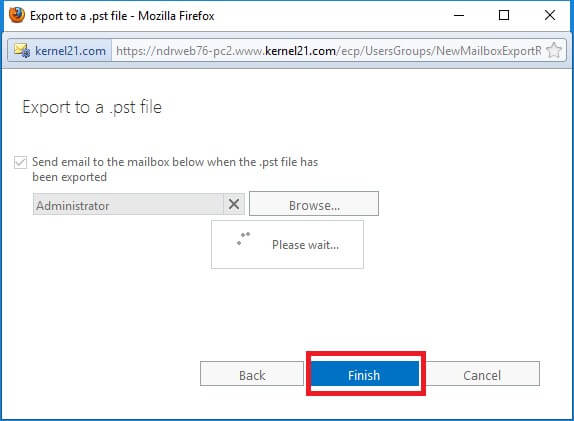 Your mailbox will get exported to the defined destination.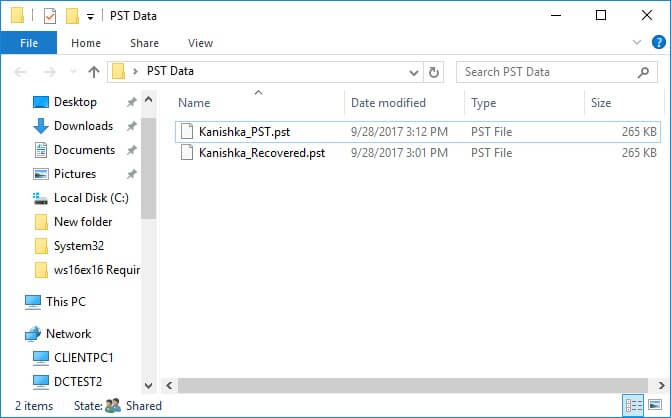 Note: You will get a confirmation message in the specified PST mailbox, once the export process is completed.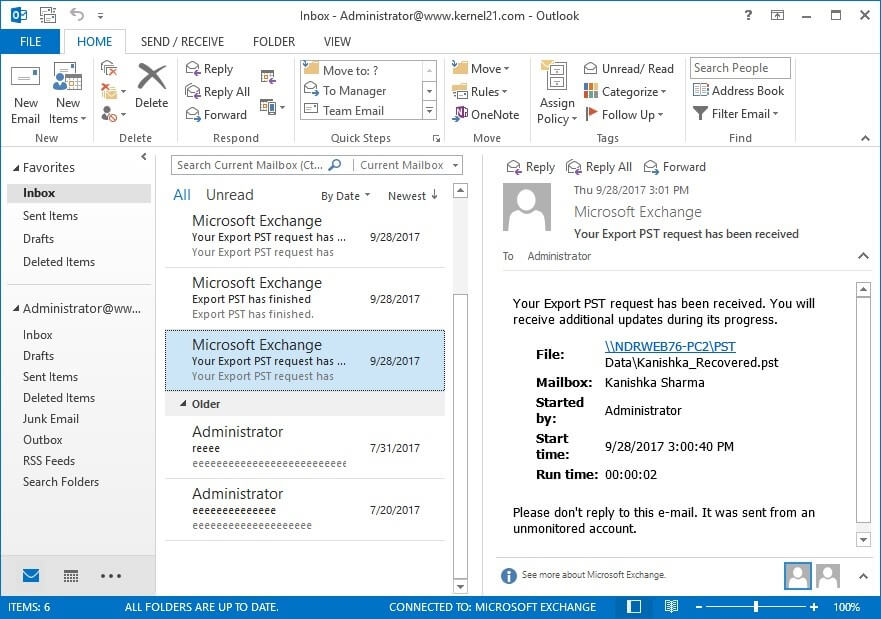 Limitations in Export via EAC
This export method is not error-free and has some drawbacks:
Requires some technical knowledge
Does not recover corrupt mailbox data
Cannot be done with earlier Exchange versions
Risk of data loss
Need to create a network shared folder path
Third-party tools for EDB to PST conversion
Kernel for Exchange Server is a powerful tool for EDB file recovery and Exchange/Office 365 migration. This Exchange Recovery tool is helpful for recovering EDB files to PST files, live Exchange, and Office 365. Also, the migration of data from one Exchange to another Exchange is quite easy using this tool. Exchange database file extraction from Exchange backup files is also possible with this tool.

Summary
Using Exchange Admin Center is the simplest manual method for converting EDB to PST. This free EDB to PST converter method is user-friendly and straightforward, provided the user performing the export has the necessary permissions. Still, the best, quick and secure way to convert even corrupted EDB mailboxes to PST files is via the Kernel for Exchange Server tool as recommended to all users.