This step-by-step free EDB to PST converter guide will make you familiar with the manual methods to Convert Exchange database (EDB) files to Outlook PST file. It explains different techniques for different Exchange Server versions in a very comprehensive manner.
Why do we need to export Exchange mailboxes to PST?
Before going to the EDB to PST conversion procedures, let us understand why it becomes necessary to convert Exchange mailboxes to PST.
Backup purposes– Sometimes it becomes essential to backup specific Exchange mailboxes (e.g., when an employee leaves the organization). Backing up user mailboxes to PST is a cost-effective option available for Exchange administrators.
Portability needs – User mailbox data, when saved in PST files, is portable. One can move data quickly to other locations through different storage devices which is beneficial in situations like companies mergers or acquisitions.
Compliance requirements – For legal and compliance requirements, it becomes necessary to collect, save, and retain some specific data for a long time as a record to be presented any time in the future.
How to convert EDB to PST manually in different versions of Exchange?
We have discussed the various requirements for EDB to PST conversion. Now, let us focus on how to convert EDB to PST free. Exchange database to Outlook PST conversion can be performed using different methods depending on the Exchange Server version. Here, we are going to discuss them in detail – the three manual methods to convert EDB mailboxes to PST file:
Try Kernel for Exchange Server Recovery to simplify the EDB to PST conversion process. Just add the EDB file (healthy or corrupt) to the tool and export mailboxes to PST files. You can perform Exchange/Office 365 migrations as well.

Convert EDB to PST using the ExMerge utility in Exchange Server 2003
ExMerge is a free application provided by Microsoft. It converts Exchange EDB files to PST and imports data from PST file to Exchange as well. The utility can convert multiple EDB mailboxes by extracting and exporting its content to PST file format. It prevents duplicity and provides brick-level backup.
Prerequisites for using ExMerge
Before starting the export procedure, the user must fulfill the following requirements:
Using ExMerge Application
After successful installation of the ExMerge application, follow the steps as under:
Step 1. Launch the installed ExMerge application. The welcome screen will appear like this. Click Next to start.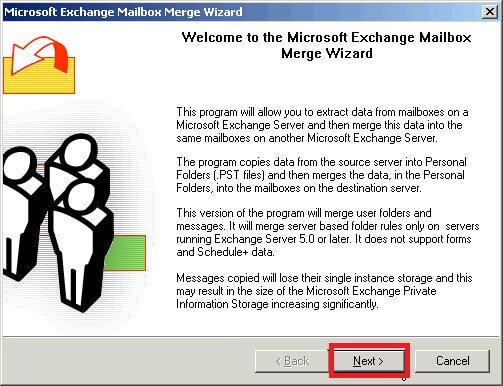 Step 2. In the opened Procedure selection dialogue box, select Extract or Import (Two-step procedure). Click Next to continue.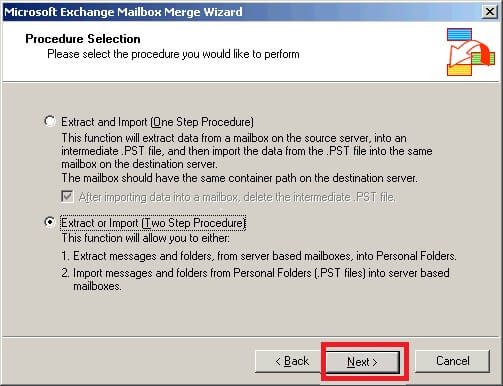 Step 3. In the Two Step Procedure dialogue box, select Step 1: Extract data from an Exchange Server Mailbox to extract the mailbox data. Click Next to move further.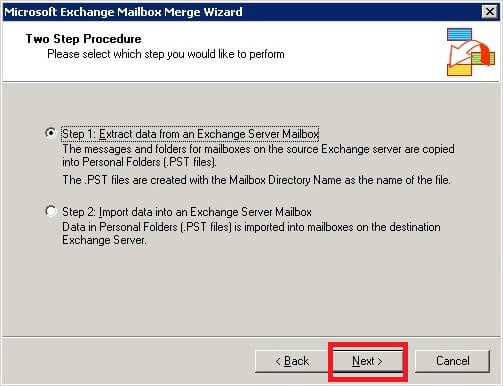 Step 4. Now provide the Exchange Server credentials from where data is to be extracted. Click Next to continue. Also, you can configure message selection criteria by clicking Options.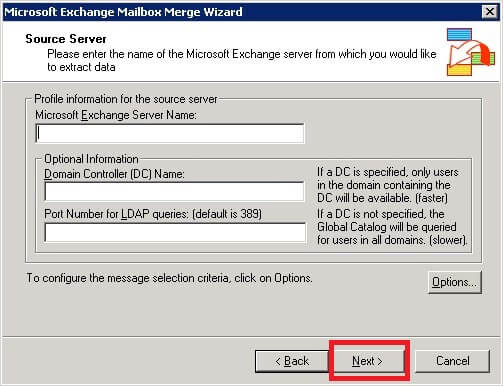 Note: In the Data Selection Criteria dialogue box, go to the Import Procedure tab. Select Archive data to target store and click OK to continue.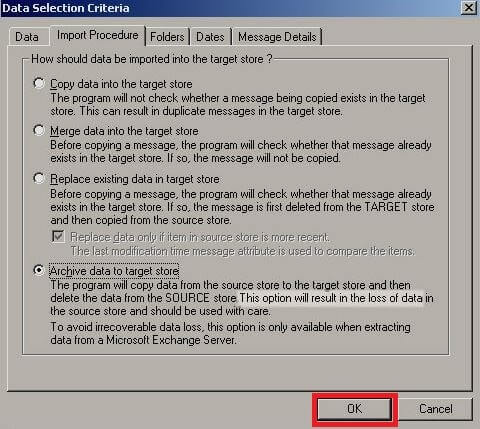 Step 5. From the mailbox selection dialogue box, select the mailboxes you want to export. You can use the options Select All/Deselect All for easy selection. Click Next to move ahead in the process.
Step 6. In the Target Directory dialogue box, provide the destination path. You can use the option Change Folder to change the default folder location. Click Next to start the process.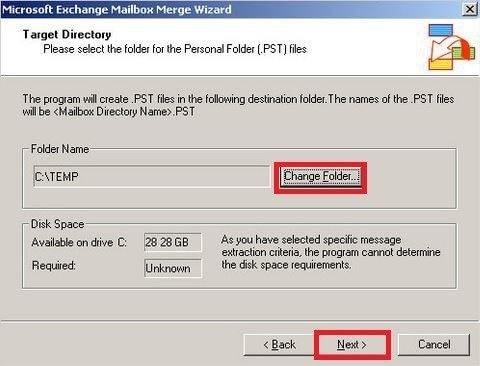 Step 7. The export progress is displayed by the utility. Once completed, click Finish to complete the process.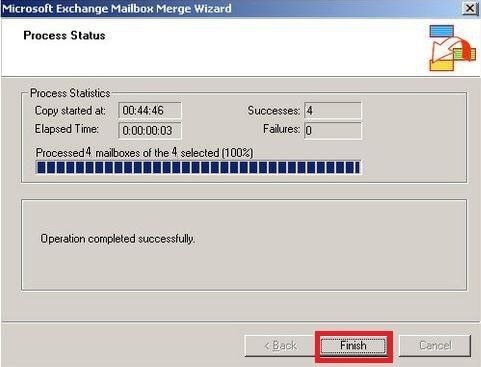 The EDB file data gets exported to the PST file.
Drawbacks of ExMerge application
The ExMerge application can convert EDB mailboxes data to Outlook PST files but holds some risks and limitations.
Takes much time to export
Lengthy procedure
Chance of data loss
Fails to export data more than 2 GB
Works efficiently with earlier versions of Exchange (Exchange 2003 and earlier versions) only
Summary
The Microsoft ExMerge application can move EDB mailboxes to PST. It is indeed a free application, and so is attractive to the users. But satisfactory results are not guaranteed always and can be used for the older Exchange Server versions only. Also, it is time-consuming. Data loss possibilities and file-size limitation issues are also there.