If your Exchange Server 2016 services are not getting started automatically after you have performed a reboot, try this
Many Exchange experts suggest rebooting of Microsoft Exchange Server as a quick fix under the circumstances like unable to send/receive messages by users, directory service issues, CPU performance issues, etc. Rebooting may solve these problems. In fact, it is recommended to reboot the Exchange Server twice in a month for better functioning of Exchange Server.
But, once you have rebooted the Exchange Server and finds that all Exchange Services did not get started automatically, then there is a problem. The services which generally refused to get start automatically (shows Stopped as the status) after rebooting are: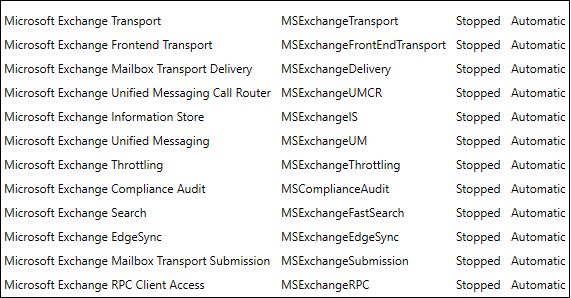 One can try the below-given method to manually restart the Exchange Services which did not get started automatically after the reboot.
Restarting the Exchange services manually
To restart the Exchange services manually, you must access the system on which the Exchange Server 2016 is installed. Then follow the given steps:
Press Windows+R, type services.msc and click OK.

In the opened Services page, select a Microsoft Exchange Service which shows Stopped as the status, right-click on it and then click Restart option from the menu.
This will take some time for starting each Microsoft Exchange Service, but the problem can be resolved by performing this.
What if the Exchange database is not accessible?
You can try the above method to restart the Exchange services, but it might happen that users are still not able to access the Exchange mailboxes to send or receive emails. This condition gives a strong sign of corruption in the Exchange database. There are manual solutions like the in-built Eseutil application for fixing the corruption in EDB file, but all are time-taking, unreliable, unsafe and lengthy in nature.
For smooth and safe recovery of the corrupted Exchange database file, we recommend you try the best Exchange Server recovery software in the market, Kernel for Exchange Server. It can automatically recover and restore mailboxes database in Exchange. Some important attributes of advanced Kernel for Exchange Server tool are:
Recovery of all sort of EDB data including mailboxes and public folders
Compatible with all Exchange Server versions (including 2016 & 2019)
Includes advanced filters and options for mailbox item selection
Various saving destinations like Outlook, Office 365, live Exchange, Outlook profiles, etc.
Easy drag/drop, copy paste, export options to move data between the source & destination
Demo version for a free trial (with some saving limitations)
Hence, with so much amenities this advanced software still incorporates simple and interactive Graphic User Interface for the users' convenience.

Summary
Users got to learn the primary method to follow if, after rebooting, some Exchange Services did not start automatically. But in severe EDB corruption conditions, a trusted professional tool is the best choice.