""Windows Live Mail is continually showing me Server Error: 0x800CCC90. Mail is imported into my Live mail account, but unable to do so for the other accounts. Now, each account is asking for a password. I found a way around this error by going to my ISP's homepage from where I can access all my mails. I also tried repairing all Windows Live Programs, but this didn't solve my problem. This is quite frustrating as not only me but my friends too have the same problem. What should I do?""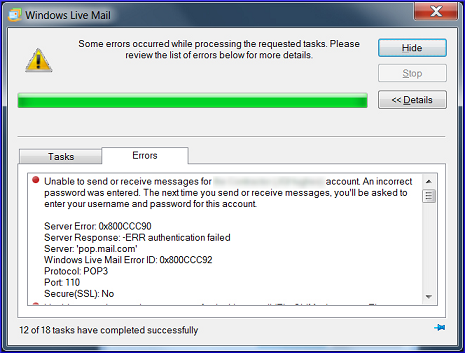 Windows Live Mail (WLM) is a freeware email client (but now discontinued by Microsoft). It was a successor to Windows Mail (Windows Vista), the successor to Outlook Express (Windows XP and Win98). Since 2013, many problems had been reported with Windows Live Mail 2012. One such problem was that the deleted emails kept returning day after day. These days a different error/bug is causing trouble for some Windows Live Mail users. Due to this server error code 0x800CCC90, the user is unable to send or receive messages. In this case, all of your unsent emails are sent to Outbox. Several users have reported that this error might be triggered by the interference of antivirus software or other third-party software.
Causes of Windows Live Mail Error id 0x800CCC90
Following are some of the causes of server error 0x800CCC90:
Windows registry becomes corrupt due to malicious programs.
Accidental deletion of Windows Live Mail files.
Changes in the default settings of Windows Live Mail (WLM).
Manual Methods to Fix Windows Live Mail Error Code 0x800CCC90
Fix #1 Turnoff Your Anti-Virus Temporarily
There is a possibility that antivirus programs interfere with Windows Live Mail. Hence you can try disabling your antivirus or completely uninstalling it temporarily to isolate the cause of this error. These days tools like Microsoft Security Essentials or Windows Defender come pre-installed with Windows 7 and 10. Hence there is no need for a third-party tool. If this does not solve your problem, then move to the next step.
Fix #2 Repair Windows Live Mail
For Windows 8 and 10

On the keyboard, press key, then search for the control panel.
Open Program and Features and locate Windows Essentials.

Now click Uninstall/Change.
Thereafter, click on Repair all Windows Essentials programs.


For Windows Vista and 7

Click on Start and select Control Panel.
Now open Programs and select Program Features.
Look for Windows Essentials and click on it.
Right-click and select Uninstall/Change and click Repair all Windows Essentials programs.
Fix # 3 Miscellaneous Quick Fixes
Go to Registry and repair all entries that are linked with Windows Live Mail error id 0x800CCC90.
Scan your system with trusted antivirus software.
To remove junk files from the system, go to any partition, right-click on the drive, select Properties, and click on Disk Cleanup.
Update all your system drivers.
Check for Windows updates.
EML to PST Converter
According to Microsoft support, Microsoft has discontinued support for Windows Essentials 2012 suite.



owadays, MS Outlook is widely used and is considered the most trusted email client. Therefore, it might be the right time to migrate from Windows Live Mail to Outlook. It is much easier to work with PST files than with EML files. But for EML to PST conversion, one requires a professional tool. One such tool is EML to PST Converter. This tool comes packed with many advanced features. It supports various EML platforms such as Windows Mail, Windows live mail, Thunderbird, Eudora, etc. Also, it supports all Windows versions, including Windows 10 and all previous versions. EMLX files of Apple Mail.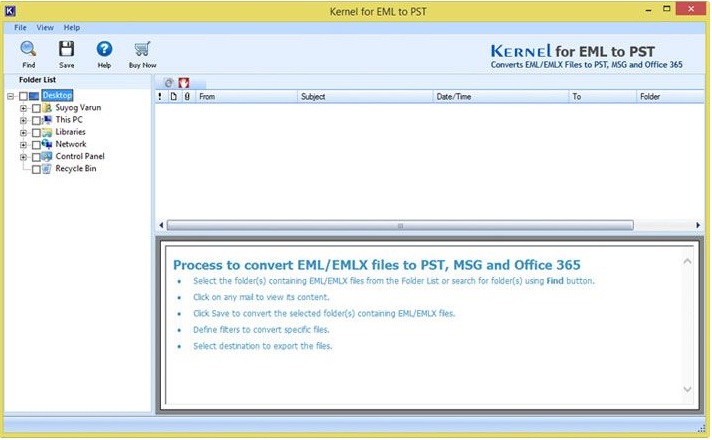 Working Video of EML to PST
Conclusion
In this blog post, we have looked at the causes for the Windows Live Mail error code 0x800CCC90. It can be said that corruption of the registry files due to malicious attacks and other reasons are the leading causes for this error. A total of three manual methods have been discussed in detail to solve this issue. As Microsoft has stopped providing support for the Windows Essentials suite, we believe that it might be the right time for the user to migrate from Windows Live Mail to Outlook 2016/2013. So, we have recommended EML to PST Converter to achieve this conversion in a hassle-free manner.