MS Word documents may show unexpected behavior sometimes: they may send error messages, display layout and formatting incorrectly, show unreadable characters on the screen, renumber pages repeatedly, redo breaks in the page, or halt the computer from responding. All these point to the damage of the document or its template. There are many ways one can repair damaged MS word documents—using inbuilt tools or using professional MS Word recovery tools. Also, it is recommended to be prepared against such issues. Here, we will show how to use the AutoRecover feature to recover Word documents after they are closed unexpectedly.
How to change auto recovery settings in MS Word?
The AutoRecover feature helps users to recover the data after unexpected closing of MS Word documents. This feature saves data at specified intervals set by the user. So when there is a requirement, the user can recover the data (up to the last AutoRecover saving).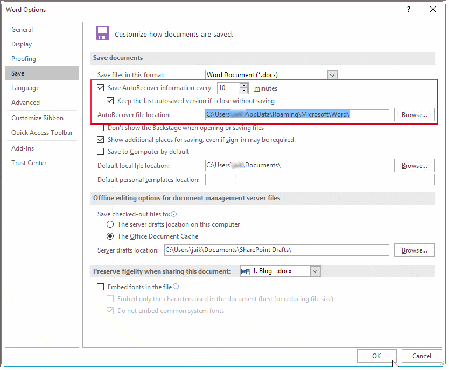 The AutoRecover settings can be accessed from the Save tab of Word Options dialogue box (which opens upon clicking File > Options in MS Word). Make sure that the check box Save AutoRecover information every minutes is checked, and select an optimum value for it. Also, select a suitable location for saving the information (using the Browse button against AutoRecover file location).
How to use AutoRecover to get back MS Word documents?
The AutoRecover features saves documents in .asd format in the location specified by the user. After unexpected closing of Word documents, one can use the latest .asd document created by Word. Here is how one can do this:
1. Open MS Word, and copy the AutoRecover file location (to find the location, see the steps given earlier in this article).
2. Now click File > Open; click Browse.
3. In the address bar of the Open dialogue box, paste the copied location. In the dropdown list against File name, select All Files ("."). Now, all the documents (including the AutoRecover files) will be seen.
4. Now look for AutoRecover files (with the extension .asd). Open the latest .asd file (use a trial and error method to find the latest one). Now the file is again usable, and contain data up to the last AutoRecover saving.
How to deal with serious MS Word corruption issues?
When Word documents face serious issues, the AutoRecover feature may not be helpful to recover the lost data. More sophisticated repair solutions like Kernel for Word Recovery are necessary then. This tool ensures recovery in a few steps, and follows the same recovery procedure for all the versions of the Word.