Microsoft Outlook Calendar allows users to create reminders for appointments, schedule meetings, and help in many other ways. Many users often have access to multiple calendars, some of which are shared by managers, colleagues, or clients. Therefore, users need to merge multiple calendars into one so that they can access all their items in one place. That is where the trouble begins because most people do not know a way for merging multiple calendars in Outlook.
But don't worry! Outlook does provide some good options to merge multiple calendars – one of them is Overlay Mode.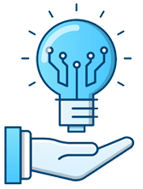 Instant Solution
Try automated tool Merge PST to merge multiple PST into a single PST file, including emails, contacts, calendars, notes, tasks, etc.


Overlay Mode and Side-by-Side Calendars
Overlay feature was introduced with the release of Outlook 2007, after Outlook 2003 introduced Side-by-Side Calendars.
The Side-by-side feature allows you to select multiple calendars in the Calendar by checking the checkbox at the side of the calendar.
How to implement Overlay Mode in Outlook Calendar?
The Overlay mode allows you to place the Calendars on top of each other so that you can create an aggregated view that will look like a single calendar. You can implement the Overlay feature at the following location:
Outlook 2010, Outlook 2013, and Outlook 2016
click View>>Group: Arrangement>>Overlay
With this feature, you can overlay calendars that will allow you to see all calendars at one place, but they will not be combined or merged. So, there are other methods to do that.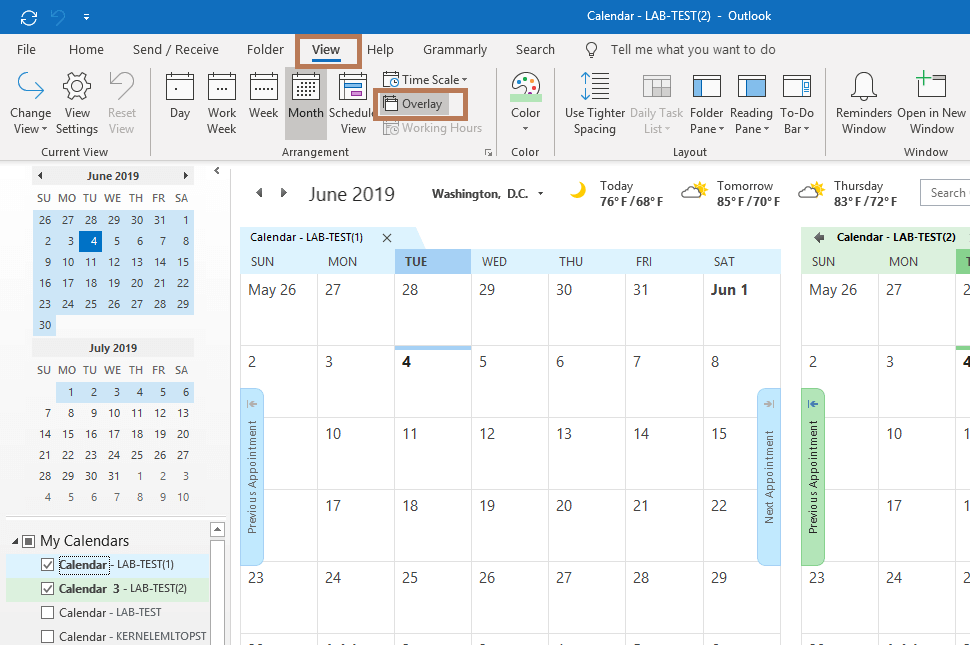 Merge Items from Multiple Calendars Manually
It is a two-step process, in which items are exported from one calendar, and then the exported calendar information is imported so that it can be merged with the calendar where you want all items to appear.
To Export Calendar Information – Follow the steps as:
In Outlook's File tab, select Open & Export and select Import/Export.
After selecting Export to a file, click Next.
Select Outlook data file and click Next.
Now, select the calendar folder that you want to export and click Next.
Enter a folder location and file name to save the file or click Browse to select a folder and enter the file name. Click Finish.
It will create a copy of the Calendar items without deleting any items from the calendar. Now, import calendar information to the specific calendar.
To Import Calendar Information – Follow the steps as:
In Outlook's File tab and select Open & Export and select Import/Export.
Now, after selecting Import from another program or file, click Next
Choose Outlook data file and click Next
Now, Browse the file that you created in the previous section and click OK
Select Do not import duplicate items under Options, and then click Next
Now, select the Calendar folder under Select the folder to import from.
Uncheck the checkbox Include Subfolders
Click Import items into the same folder, and then click Finish
Note: If you have multiple accounts, then you might have different PST files. Select the account where you want the calendar items to appear.
The above two are the native, yet complicated methods to merge calendars in MS Outlook because sometimes the same calendar gets overlaid each other and create confusion for the users. So, to avoid this confusion, you can opt for the Merge PST File that is specially designed to merge PST files.

With this utility, you can easily merge two or more calendars in your Outlook. Also, this software comes with advanced filtering options that allow users to merge specific items based on their requirements.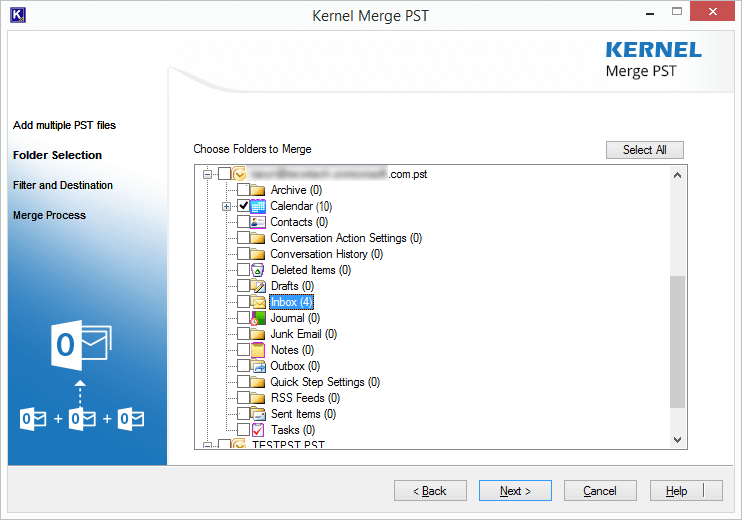 Conclusion
Outlook users often need to merge multiple Calendars so that they can access all items within one folder. And MS Outlook provides them the Overlay mode, Side-by-Side calendars option and some features like Import/Export to merge Calendars, but sometimes these methods do not work properly or time-consuming especially when users utilize more than one PST file in the application which calls for a professional Outlook PST Merger tool as suggested in the article.
So, here we talked about manual techniques as well as a third-party software that makes merging PST files easy.