VHD, Virtual Hard Disk Drive, is a file format that can contain disk partitions and file systems like a physical hard disk, which identically allows storage of file(s), folder(s) and other stuff.
A Virtual Hard Disk Drive allows the installation of multiple operating systems on a single host machine. This multi-OS environment enables developers to test the software application in diverse ways.
VHD and VHDX are Virtual Hard Disk Drive file formats, and to make proper use of VHD/VHDX file(s), a Virtual machine is necessary. For accessing a VHD or VHDX file(s), it is not mandatory to go through the wacky task of Virtual machine installation.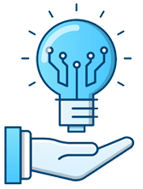 Instant Solution
Try the automated tool VHD Recovery to recover data from corrupt or damaged VHD/VHDX file(s). It supports all Operating System: Windows 10/8.1/8/7/Vista/XP/2000/98/NT/95.

For opening a VHD/VHDX file, you'd have to mount the file, and you can unmount it after use. In this article, we'll guide you on how to mount/unmount VHD/VHDX files in Microsoft Windows with ease.
Mount VHD/VHDX Using Windows File Explorer
On Windows, you can mount a VHD or VHDX file by two different methods – one is by using Windows File Explorer, in which there's no need to open any system utility or download any specific application.
Follow the Below Steps:
Open Windows File Explorer.
Select the VHD/VHDX file, right-click, and select Mount.

Wait for a few seconds, and check, a new drive would pop.

Mount VHD/VHDX Using Disk Management Console
In this second method, we're using Windows Disk Management Console. Go through the steps below:
Right-click on the Windows icon.
From the list, select Disk Management.

Click on the action and select Attach VHD.

Browse the VHD/VHDX file and click OK.

Note: Checkmark the Read-only option, as shown above, to deny the write permission for unauthorized users.
Wait for a few seconds; the partition will now be available as below.

Both of the above methods, of mounting and unmounting the VHD/VHDX file(s) works with no issues at all, but in specific events of virus infection, incompatibility, and more, the approaches above may fail. In such events, we suggest going for a professional tool that eliminates the need for manual steps.
How to View Damaged VHD Files?
Kernel VHD Viewer is a simple yet effective tool which is available to download for free on the web. Using the VHD Viewer, you can have access to not only healthy VHD/VHDX file(s) but corrupt or damaged as well.
Follow the steps below to open and view the contents of a VHD/VHDX file without mounting it to the system:

Open Kernel VHD Viewer tool.
Select the VHD /VHDX file you wish to open and click Quick Scan.

Note: Extensive Scan, File trace, and Quick Scan are different Scan modes available. For most cases, Quick Scan mode works fine, but if the VHD/VHDX file is corrupt or damaged, you should select Extensive or File Trace scan mode as per the file damage precedence.
Once the Virtual Hard Disk Drive is loaded, the UI will change.

Select Virtual Hard Disk 0 on the left and click Next.
Note: Upon Virtual Hard Disk Drive selection, all the details will come up on-screen as shown above.
Select Use existing partition info and click OK.

Note: In case if the partition info is missing, select Search partition.
Now that the partition is loaded, select Partition 0, and click Scan.


Note: Partition reference name "Partition 0" could be different in your case.

Wait for the scan process to complete; the total time taken by the process depends on the VHD/VHDX file(s) size.

Click Ok when the scan completes.

Done. And you can view the VHD file data.

Note: You can Save Snapshot of a specific instance of scanning and resume it using the tool next time from the point where it was stopped; doing this will eliminate all the steps from 1 to 7.

You've successfully opened the VHD/VHDX file(s) without using any system utility and eliminated the chances of VHD/VHDX file(s) getting exposed to any risk or vulnerability.
Advantages of Kernel VHD Viewer
Get knowledge about the advanced and useful benefits of the Kernel VHD Viewer tool here.
Allows viewing corrupt as well as healthy VHD/VHDX files content
Integrates three scanning modes for the repair of corrupted VHD/VHDX files for preview
Preview complete VHD/VHDX file content – images, pdfs, docs, etc. on a wide display
Supports all Windows versions, both NTFS and FAT file system
Exclusive Find option to find specific file items in VHD/VHDX files
Simple and interactive Graphic User Interface, features
Conclusion
Kernels' VHD Viewer is a lightweight and easy to install tool available for free to download, it saves VHD/VHDX file(s) from any exposure to soft vulnerabilities and is highly suitable for those who face incompatibility with either file or system issues. To recover data from corrupt or damaged VHD/VHDX file(s) download VHD Recovery tool.