Microsoft Office is an amazing utility that bundles various Office applications, and you can choose between Home & Business License options, as per the need.
By the time, Microsoft has made improvements not only in their products & services lineup but also simplified the licensing options including the subscription plans. The office suite is perfect for everyone, whether you're a student or run business, the need of Office applications doesn't require any justification regarding what you do.
Inside
You can use your Microsoft Office installation on single or multiple systems, but it depends on the license type of the software which you've bought, businesses generally opt for multi-system license whereas normal users opt for a Home license.
Though transferring Microsoft Office installation onto a new computer sometimes becomes messy, as there are a couple of conditions specified by Microsoft (software product installation and transfer policies) which should be taken under consideration before the actual transfer.
In this article, we'll guide you on How to transfer Microsoft office to another computer without messing the software license or anything else.
Before we jump straight to the steps, there are a few things we should discuss to clear things up.
There are three (3) specific conditions which should be met to transfer your Office installation onto a different PC,
Every paid Microsoft product comes with a 25-character product key which is necessary for activating the software.
For transferring the Office installation onto a different PC, the License should support transfers.
You should have Office installation media (disk or file) matching with the Product Key.
Note: Above conditions do not apply to Office 365 & 2016, as for these or later versions of Office the License association has been shifted to client's email, not with the hardware.
The whole process of transferring the Microsoft Office 2010 & 2013 installation comprises multiple steps, so you'll have to go one-by-one.
Check the License type
Microsoft offers Office with different License tags, and every specific License type holds some restrictions, therefore first it is mandatory to know the License type of your Office installation.
Below are the most popular Microsoft Office License types:
| | |
| --- | --- |
| FPP | Full Product Pack |
| HUP | Home Use Program |
| OEM | Original Equipment Manufacturer |
| PKC | Product Key Card |
| POSA | Point of Sale Activation |
| ACADEMIC | Previously it was meant for secondary students, now the program has been discontinued. |
| ESD | Electronic Software Download |
| NFR | Not for Resale |
FPP, HUP, PKC, POSA and ESD only are the License types which allows Microsoft Office transfer to a new computer.
To know whether the License you own supports Office transfer or not, follow the steps below:
Press button to launch Windows Start.
Type cmd > press CTRL + SHIFT + ENTER to open it as an administrator.

Before proceeding any further with the Command Prompt,
Open File Explorer and copy the location/path of your Office installation.
Note: First we need to change directory in command prompt from default to Office's
Type cd \ to get to the root of the drive > press Enter.

Now, type cd your office installation location/path and press Enter.
Note: In our case, the Office installation address is as below, kindly change the Office.
installation location/path with your Office installation path.

Type cscript ospp.vbs /dstatus > press Enter..
Office installation License name is marked below with 2.

In a few seconds, the license info would pop on-screen; if you see the words Retail or FPP you can proceed to transfer your Office installation onto a different PC.
Check the right to transfer the license
Like it is mentioned above, the next step would be checking your rights to transfer the License from one PC to another.
License with the tags Retail or FPP would allow Office 2010 & 2013 transfer; for rest of the Office License types, the installation is restrained to die with the hardware & transferring the Office License & installation won't be possible.
Below is the relative information regarding the number of Office installations allowed & transferability rights: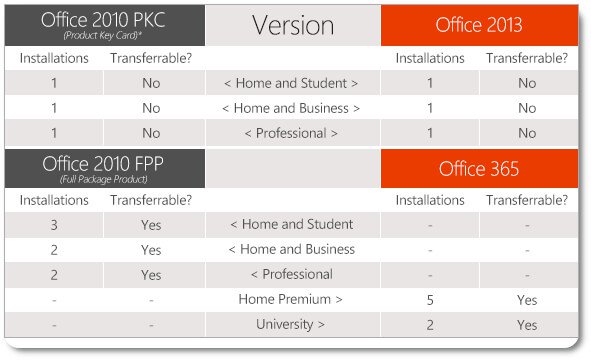 Source: Microsoft
Confirm allowed number of installations
Microsoft Office versions before 2013 build, allow users to install the application package on three (3) different computers concurrently, but later starting with Office 2013 the allowed number of installations were reduced to 1 for all Retail Bundles.
Allowed number of installations of Microsoft Office varies from version to version.
Transfer Office 2010 or 2013 License
For transferring Microsoft Office 2010 & 2013 from one PC to another, below are the steps given:
Uninstall the current Microsoft Office installation from your PC,
Open control panel > Program & Features > select MS Office 2010 or 2013.
Right-click on the application and click Uninstall.

Now, check whether your new PC is running any trial version of Office.
In case if you've installed Offices' trial version > uninstall it completely.
Note: Failing in uninstalling the trial version of Office, you may face issues.
Initiate Microsoft Office installation.
Note: Install from CD or the installation media package and activate with the License given.
Upon the completion of installation Microsoft Office,
Open any Office program,
Click on File tab > Account.

Click Activate Product (Change Product Key) > input the Key.
Note: In case if you get an error message, for example, too many installations, and the activation could not complete, you would have to contact Microsoft Customer Care and raise a request for activation over the phone.
Your Office 2010/2013 installation has been migrated/transferred successfully.
For Office 365 Subscription, 2016, 2019
For migration of Office 365 subscription/Office 2016/Office 2019, follow the below steps:
Log in to Microsoft Office, open MyAccount page via this link.
A list of your all Microsoft products would be shown.
Move to Install section > click on the Install button.


Note: If you fall under an Admin account, click on the settings icon, select Office 365 settings.

Under Install info, select Deactivate Install.
Confirm the prompt when pop-up by clicking Deactivate.
Note: Wait for the registration process to complete.
Upon successful deactivation of License,
Open Control Panel > click on Programs & Features > uninstall the Office installation linked with the License.
Note: Till now, the steps are in respect to your old computer/PC.
Now, open your new PC,
Repeat step 1 & step 2 of this section, and when you return to Install info section in MyAccount, click on Install button.
setup.exe would start downloading.
Upon the completion of download successfully, Install Microsoft Office on your new PC.
Sign in to your Microsoft Account using login credentials
Note: Wait for a couple of seconds for the process to complete.
You've successfully migrated/transferred Office 365/Office 2016 installation on to your new PC.
Word File Repair
Word File Repair Tool is an excellent product for sorting issues or problem associated with MS Word documents. Using the tool, you can easily repair & recover corrupt or damaged MS Word file(s).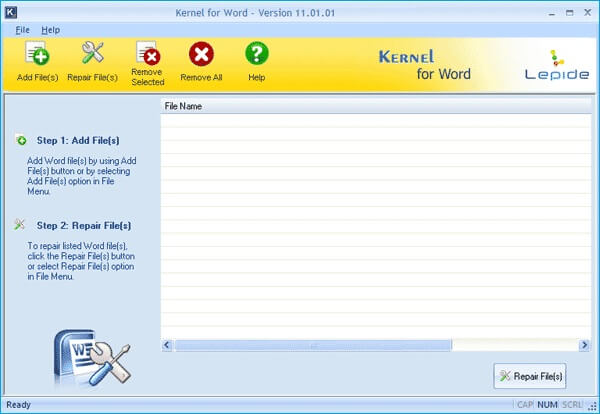 Word file Repair tool offers a simple yet intuitive GUI – Graphical User Interface, which lets you to understand the features and process flow quite easily with no technical efforts. With wide support for the Windows operating system, there is nothing to worry about; it is a one-click install no matter which version of Microsoft Windows you're using.
Benefits of Word Repair Tool
It repairs all the word formats (DOC, DOCX, DOT, DOCM, DOTX, DOTM.)
It recovers the large-sized word files.
All the information present in word file remain unchanged.
Images, tables, signatures, fonts, etc. are protected during recovery.
Provides a preview of word file just after the recovery.
Supports Rich Text Format for recovery.
Supports all version of MS Word 2019, 2016, 2013, 2010 and older.
Conclusion
Using the above method for transfer of Microsoft Office 2010/2013 and Office 365/2016 respectively, you can execute Office transfer from one PC to another with ease.
Watch the Complete Video to Repair Corrupt Excel Files