MS Outlook allows its users to manage numerous email accounts from a single console. Because of its high efficiency and extensive features, Outlook is considered to be one of the most effective tools to manage email communication. But, like other email client applications, Outlook has its limitations and disadvantages. Corruption/damage to an Outlook PST can let users wonder why they are unable to access their valuable information within the application interface.
An Outlook PST file, as we know, stores the complete mailbox information, including emails, calendars, events, drafts, notes, contacts, etc. Corruption or damage to a PST can cause loss of valuable data at once. There might be several reasons behind the corruption of a PST file. But what matters here is how we can prevent a PST file from getting corrupted and what are the means to recover important data from a corrupt PST.
Well, we will discuss measures to prevent the corruption of PST files as well as methods to recover data from a damaged PST file. But first, we will see the root causes that lead to such errors in Outlook.
Why MS Outlook PST file gets inaccessible or damaged?
One of the primary reasons for your PST to go inaccessible is corruption. Corruption can have several causes depending upon the platform or usage of the PST file. Some of the root causes are listed below.
If your MS Outlook PST file behaves abnormally or gets inaccessible, it means, the PST file got corrupted. There may be various reasons behind PST file corruption:
Virus Intrusion & Malware Attacks – A Virus can penetrate your system and can cause considerable damage to your system files and applications. Malware can also corrupt essential files and folders residing in your system. Therefore, it is always recommended to install a trusted Anti-Virus which could protect your system files and applications from external threats and intrusions.
Bad Sectors on Hard drives – Damaged sectors on your hard drives can be a potential threat to your files. And it can delete or corrupt valuable files from your system.
Abrupt shutdown of the application – A sudden closure or abrupt shut down of the application interface while processing some data can cause potential damage to your system applications and files.
Oversized PST files – Since all the mailbox data is stored in the PST, oversized PST files may become corrupt.
Header file corruption – Corruption to the header components also leads to inaccessibility of PST files.
Manual Methods to Fix Inaccessible or Damaged PST Files:
It is always advised to try recovering corrupt/damaged PST files using well-known manual methods. Some of the most recommended methods to fix corruption in a PST file are listed below:
Method 1. Run Outlook in Safe Mode
Try running Outlook in safe mode; this could resolve the error if corruption exists on a low level and indicates that Outlook add-ins are faulty. So, it is advised to disable the suspected Add-ins after running the Outlook in the safe mode using this procedure.
Launch the Run Command dialog box by pressing Win + R on your system keyboard.
Type Outlook /safe and click OK or hit Enter.
This will launch Outlook in safe mode. If you are still not able to access the file, try using other methods of recovery.
Method 2. Check Firewall Settings
Sometimes improper Firewall settings can be the reason behind the inaccessibility of PST files. In addition to that, some applications running in the background can also hinder the working of the Outlook email client.
Check your settings if you are unable to access the PST. Also, make sure that the default Firewall settings do not include any feature that is affecting Outlook to load files. You can also try disabling or turning off the Windows Firewall for some time and check if the PST file is accessible now.
Method 3. Use inbox Repair Tool to Repair Corrupt PST
Inbox Repair Tool is an in-built utility provided by Microsoft. You can easily find the setup (ScanPST.exe) for the tool at the following locations in your hard drive.

Close the Outlook program if running in the background.
Double click on the SCANPST.EXE file to launch the Inbox Repair Tool.

Click Browse and select the PST file and click OK.

Click Start to scan the file for all possible errors.

You will get notified of errors when the tool completes the scan. Select the checkbox to create a backup copy of the scanned file and click Browse to specify the file saving location. Click Repair if found any, otherwise click OK to exit the tool's interface.

The recovered file gets saved to the specified location. Click OK to finish.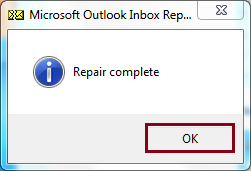 ScanPST.exe is a free manual utility from Microsoft, which lets users repair their corrupt Outlook PST files. However, ScanPST.exe can handle minor corruption of files up to 2GB file size only. The tool also takes much time with multiple trials to complete the entire repair process. Other manual features explained above also do not stand strong to repair highly corrupted or damaged PST files. Therefore, to get a smooth and hassle-free process, one can opt for any third-party tool like PST Recovery Tool. It has an easy-to-use interface and smart integrated features to deliver quick, limitless, and selective PST recovery. Apart from the PST file, it saves the recovered data to Office 365 and more destinations easily.

Conclusion
Manual techniques to repair PST file is effective only when PST file has minor corruption issues and is of small size. Otherwise,, a smart and reliable PST Repair tool as explained in the blog is the ultimate requirement to access the file again.