Compress & compact/split/merge/repair PST files & manage duplicate emails
MS Outlook has become a widely accepted and used email client with both businesses and individuals. Outlook not only serves as an email client, but also provides facilities like Calendar, Task Manager, Contact Manager, Note Taking, Journaling, etc.
As per a research conducted in 2018, there are 400 million active users for MS Outlook!
But the downside of Outlook is that it is not devoid of issues. The problems in Outlook can sometimes threaten your data security. And there are few things users need to be careful in order to avoid unwanted problems in Outlook.
To help users in managing the Outlook application, KDR Tools has come up with a complete Outlook toolkit known as Outlook Suite. It provides you with solutions for all the PST related requirements. Let's discuss what this Suite consists of.
Outlook PST Recovery – Repairs corrupt/damaged PST files
PST Split – Splits PST files to avoid chances of corruption
Outlook Duplicates Remover – Removes duplicates and reduces size
PST Compress & Compact – Compresses & compacts PST files to keep the size in check
Outlook PST Recovery
This Outlook PST recovery tool helps you to repair damaged or corrupted PST files. It is uniquely designed to recover data like messages, attachments, contact, etc. from the corrupted PST file. It provides you with the option to save recovered data to a new healthy PST file, Exchange, Office 365, Gmail or any other format like DBX, MBOX, MSG, EML, TXT. RTF, HTML, and MHTML. The tool can recover even email properties like Subject, To, From, Cc, Bcc, Date, and Time.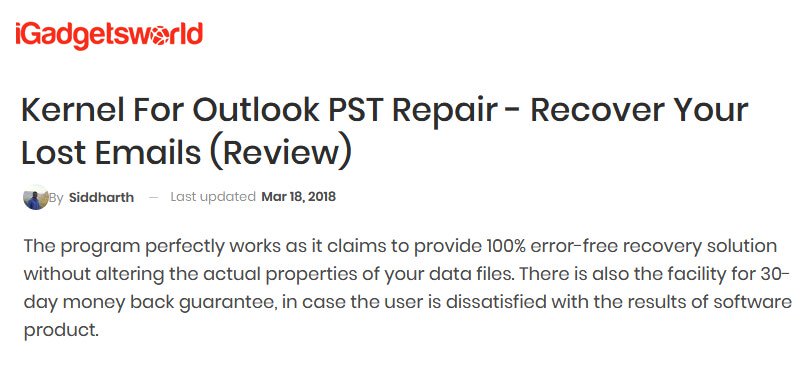 PST Split
As the name suggests, this tool assists you to split PST files. Splitting PST files has several benefits, but it isn't easy to do it in an organized manner. PST split tool helps you to split even very large files and save them in an orderly manner in many PST files maintaining the accuracy of mailbox data. While splitting, this tool retains every single item your file and maintains metadata of items.


Outlook Duplicates Remover
If you want to remove duplicate items, then this Outlook Duplicates remover tool is going to do it for you. Duplicate items may sometime trouble you and leave you confused about the stuff you have in the mailbox. Moreover, they take space. Outlook Duplicates Remover detects and finds duplicate items from multiple PST files and helps you manage them.
You can select the folders you want to remove duplicates from, or you can select all of them to be double sure that your whole PST is duplicates-free. The software can find duplicates based on date, text, subject, sender email, sender name, receiver name, etc.
After finding the duplicates, how can you manage them? You have many options. With the software, you can delete duplicates, mark them as expired, put flags on them, and finally copy or move them.
Software Review
"I bought this suite two months back, and I can't just explain how happy I am with this purchase. It worked so well with my system and Outlook, and the process was quick and easy to perform.
Except for the Duplicates remover tool, I have used all of them, and they all had a user-friendly and easy to operate interface. My every PST related problem is sorted with this tool."

PST Compress & Compact
Sometimes compacting and compressing is the best way to manage PST files, especially when they are large. The PST Compress & Compact tool makes this task much easier and faster. With this tool, you can compact and compress multiple PST files in one cycle. It can also assist you in removing unused and unwanted space from the PST files.

Awards
It has won many awards besides winning uncountable hearts. With our hard work and the support of our users, we have achieved a remarkable place in the market. We are thankful for this much trust our users had in us.

To know what experts say about us, and more information about our awards visit our link https://www.kerneldatarecovery.com/awards-and-reviews.html
Summary:
We would highly recommend Outlook Suit for almost any Outlook-related issue. It offers PST repair, merging, splitting, duplicity removal, and much more without any file size limitation. The software works with all versions of MS Outlook and Windows and comes with lifetime license and updates.