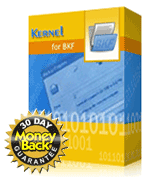 BKF Recovery - Recover corrupt backed up files - Recover Data
In general, most of us create BKF archives for maintaining successful backups, but facing issues like corruption can render out your plans. Kernel for BKF Recovery tool is one such efficient software that has got ability to repair and fix corrupted MS backup files. This BKF recovery software allows user to recover and restore data from backup files which got corrupt due to virus attacks, unexpected system shutdowns, interrupted backups, CRC errors. Adding to that, using such application you could also deal with situation where you get encountered with error messages like "Fail to open file", and "The backup file is unusable (unrecognized media)" are displayed while opening the backup file.
Kernel for BKF recovery software is well integrated with dual Recovery Modes that in turn help in restoring corrupt BKF file in almost every condition. The two equipped powerful recovery modes are as follows:
Quick mode: This mode is a quick and selective BKF recovery mode. It is competent of recovering data from files suffering minor corruptions issues. If this mode fails to recover your desired backup data, scan with the other mode.
Advanced Mode: This mode is more advanced with recursive scan features and guarantees complete and successful recovery of all BKF file errors. This mode allows you to repair and restore data from severely damaged and old BKF archives. However, it is slower but extremely proficient in performing successful BKF recovery.
This advanced BKF recovery software performs comprehensive scanning of corrupt BKF file and help in searching and locating the files which are present in the backup file. After scanning process gets over, the BKF repair utility then display the list of recovered files and folders in a tree like structure. The display in tree like structure helps in easy selection and saving of file at a desired location. In addition, the implementation of QFSCI algorithm makes the BKF repair software faster and provides recovery result in minutes.
Kernel for BKF Recovery - Corrupted MS Backup Recovery software supports recovery of all files created with Windows 95/98/ME/NT/2K/XP/2003/Vista/7/8 backup utilities, as well as BKF files created with Backup Exec by VERITAS software under Windows, Novell and Macintosh.
Features of kernel for BKF Recovery

Repairs the corrupt BKF archives

Supports Unicode characters (Non English Characters)

Enriched with Save Snapshot option that help in saving details of any BKF file scan, so that later on the scan process can be resumed with the Load Snapshot option.

Offers quick recovery of Exchange BKF files created with NTBackup.exe

Option to quickly search and locate file

Embedded with two powerful recovery modes: Quick & Advanced mode

Multiple BKF files can be recovered in a single recovery cycle.

Offered with file drag & drop feature for easy BKF recovery

Automatically saves Scan info for viewing complete recovery process in later

Provide various saving options like hard disk, external disk and remote location

Efficient in performing recovery of EDB, STM and log files

Capable of repairing CRC errors

Supports recovery of BKF files created with Backup Exec by VERITAS software under Windows, Novell and Macintosh
Supported Versions for BKF Recovery
Supports recovery from all versions of BKF files created using MS Backup, Veritas or any other backup utility.
System Requirements for BKF Recovery
Operating System: Windows 95/98/NT/2000/XP/2003/Vista/7/8
Minimum 64MB of RAM
Online Chat Support
Product Screenshot for BKF Recovery

Enlarge Screenshot
Online Product Demo for BKF Recovery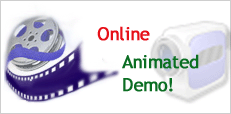 FAQ for BKF Recovery
Product Awards - BKF Recovery
Testimonials - BKF Recovery