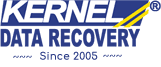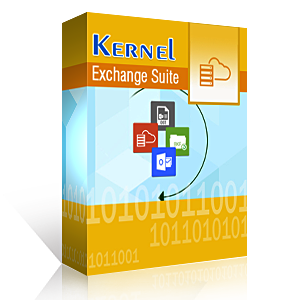 Kernel Exchange Suite
Kernel Exchange Suite provides the centralized platform to get rid of situations where data or email loss is speculated on a large scale. This comprehensive and integrated suite troubleshoots and helps you to retrieve & manage the Exchange database files, Outlook email files, and age-old server backup files in a most simplified manner.
Recover the essential components of EDB files and migrate mailboxes into distinct file formats
Restores and convert OST to PST file instantly and privilege to save it at desired location
Recovers corrupt PST file and restores all data into a new importable PST file successfully
Restores seriously corrupt Exchange backup file by retaining its intrinsic properties and formatting
Components of Kernel Exchange Suite

Kernel for Exchange Server
It is the ultimate software that can recover corrupt EDB mailboxes in all respect. The software authentically scans the EDB file with the assistance of its Standard & Advanced scan mode. Furthermore, this facility is integrated with options that drive the EDB mailbox migration to live Exchange Server, Office 365, Public Folders, Archive Mailboxes, etc. In addition, the software is enhanced with feature enabling user to migrate data from Public folder/Archive (EDB files) to Office 365 Public folders and Archive mailboxes.

Kernel for OST to PST
It is the intelligent OST recovery software that runs on latest software programming methodologies, and guarantees the immediate recovery. The software provides the rich and centralized dashboard where all the saving and migration options are integrated. It can execute the direct migration of recovered OST mailboxes to cloud Office 365 accounts, web-based email apps, email servers, and many other file formats. Despite all this, the software is optimized to run with MS Outlook 2016, Windows 10, and Outlook Express 6.0 applications.

Kernel for Outlook PST Repair
This self-sufficient tool is the ultimate savior of Outlook PST files that gets damaged because of versatile issues. The software is enriched with dynamic email filter options, agile find facility, and accurate PST split options, etc. In addition, tool uniquely initiates the saving procedure of recovered PST files by offering the options to migrate the restored file to Office 365, Novell GroupWise, Yahoo, Gmail, Exchange Server, etc. Furthermore, it can be functioned on all the latest MS Outlook versions and Windows Operating Systems.

Kernel for BKF Repair
It is the proficient backup recovery software, capable to repair several types of corrupt backup files, which includes .CTF, .BKF, and .FD file formats. The software is programmed to work with versatile backup creator utilities like HP Data Protector, Windows NT Backup, Veritas, ARCserve Backup, and Symantec Backup. Moreover, the software is handy in dealing with corruption cases of Exchange backups and compatible with the latest Windows 10 OS.
Watch Kernel Exchange Suite Live Video