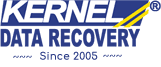 Kernel for SQL Recovery
Repairs corrupt MDF/NDF files + Makes SQL databases accessible, immediately
Restores all database objects - tables, rules, functions, views, indexes, etc.
Recovers corrupt SQL database files (MDF/NDF) and restores to Live SQL Server
Provides the preview of all database objects before saving
Facilitates successful recovery of multiple MDF/NDF files
Preserves the integrity of data during the recovery
Creates backup of restored databases in script form
Offers support for recovery of UNICODE characters
Supports all versions of SQL server i.e. 2016/2014/2012/2008 R2/2008/2005
Easy Refund Policy
Perpetual License
Unlimited files recovery
Electronic Delivery
Kernel for SQL Recovery

Recover Database Objects
A single MDF/NDF file carries variety of objects like triggers, foreign keys, views, tables, primary keys, unique keys, default values, procedures, rules and user data types. The SQL recovery tool precisely restores all such objects in their original form without modifying their structure and content. It recovers UNICODE characters as well.

Automatic detection of SQL Server version
In order to begin the recovery process, this SQL recovery tool offers an option to manually mention the version of the SQL Server files that are required to be repaired, as well as offers an automatic option to identify the version of the SQL Server files, in case a user is unaware of it.

Recover MDF/NDF database files
The SQL recovery tool recovers all the components of the MDF (Primary) and NDF (Secondary) files in the original format including the omitted sections of the SQL database.

Preview recovered MDF/NDF files
The SQL recovery tool allows a user to check the recovered files objects after recovery by providing them the preview option. This feature helps users in confirming the results obtained upon the completion of the recovery prior making any file restoration conclusion.

Multiple Saving Options
This SQL recovery solution grants two different saving options, which allows a user to restore the repaired files on SQL Server directly in order to resume the work process quickly or to a batch file.

Recover Multiple SQL Files
SQL recovery tool puts no bar over the selection of the corrupt MDF/NDF files. It allows a user to repair unlimited MDF/NDF files of any size. This feature of the tool helps those users who carry tons of SQL Server database and wants to repair it in single go.
Supported Formats
SQL Server 2016/2014/2012/2008 R2/2008/2005
Operating System ( 32bit/ 64bit ):
Windows 10/8.1/8/7/Vista/XP/2000/98/NT/95 and Windows Server 2016/2012/2008 R2/2008/2003 R2/2003
Disk Space Requirements:
Enough space to save the recovered data; for example, if you expect to recover 40 MB lost data, the Good Device should have at least 40 MB free space.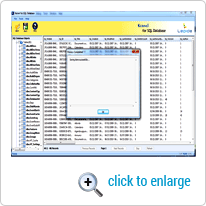 1. What reasons may be responsible for corruption or damaging of SQL database .MDF files?
SQL database MDF/NDF file may get corrupt or damaged due to hardware problems, virus attacks, software malfunctioning, invalid database file header, accidental deletion of data, inaccessibility in drivers and partitions, corruption in storage devices, insufficient space for storage, OS corruption or formatting, automatic system shutdown, multiple database table editing, etc.
Not to worry with the reasons responsible for corruption of SQL database and the level of corruption, Kernel for SQL Database assures accurate recovery of entire data embedded within MDF/NDF files including triggers, tables, views, indexes, stored procedures, unique keys, primary keys, foreign keys, constraints, default constraints, rules, user-defined functions, user-defined data types, etc.
2. Which SQL Server versions do the SQL Recovery software supports?
Kernel for SQL Database software supports recovery of MDF/NDF files created with SQL Server 2000, 2005, 2008, 2008 R2, 2012, 2014, and 2016 versions.
3. Can SQL Repair solution be downloaded as a free trial version to evaluate its capabilities before purchasing the license key of full version?
Yes, Kernel for SQL database can be downloaded as a demo version for free to check its capabilities prior to purchase the license key of full version of the software. Fully-functional free trial version works similar to that of the full version but restricts from saving the recovered objects. To save entire recovered data, you need to purchase the full version of the software.
4. On corruption of .MDF file, I tried DBCC CHECKDB command but it fails in restoring objects. Can you suggest me a better tool to recover data from damaged .MDF file?
Yes, you are at the right place. We suggest you to give Kernel for SQL Database software a try to recover data from damaged MDF/NDF file. The software works successfully when DBCC CHECKDB command fails to restore objects from corrupt SQL database MDF/NDF file. All the MDF/NDF file objects can be restored with complete accuracy using this utility.
5. Numerous third-party tools are available nowadays assuring accurate SQL recovery. Tell me the feature that makes your product different from others.
Kernel for SQL Database software is capable of restoring data to the working SQL database even when the SQL Server is running. This particular feature makes the software different from the others available for SQL recovery.
6. What to do in case SQL database is large in size! Is SQL Repair solution helpful in repairing large-sized SQL databases?
Not to worry with the large size of your SQL database. Kernel for SQL Database software effectively scans and recovers data from large-sized SQL databases.
7. Mention the options embedded within the Kernel for SQL Repair software.
Consider all pages as corrupted: It is recommended to select this option, is useful in recovering data from heavily-corrupted databases.
Save the tables without identity property: Select this option if tables are not saving due to corrupted data. Checking this option will allow saving the tables without identity, you can set the identity of these tables after recovery.
8. What to do in case the user is unaware using which version SQL Server database .MDF file was created for performing the SQL file recovery?
Kernel for SQL Database offers an "Auto detect database version" option to assist the users in case the version with which the SQL database MDF/NDF file was created is not known. Select this option in case you want to let the software auto-detect the SQL database version and deselect it if you want to select the SQL database version manually.
9. On providing the SQL Server version manually, the software displays the message "No object(s) found". How to deal with this error message?
Occurrence of this error message shows that you have selected the wrong SQL Server version. So it is highly recommended rather than selecting the SQL Server database version manually, let the software auto detect the SQL Server database version with which that MDF/NDF file was created. You just need to just select the "Auto detect database version" option and the tool will automatically find out the database version with which MDF/NDF file is created.
10. What are the different saving options available for saving the recovered SQL database objects?
SQL Server: This option allows saving recovered objects directly on the SQL Server, even if the Server is running.
Batch File: This option allows saving the batch file of the rebuilt SQL database on a desired location. The recovered data is saved in separate script files at the desired location.
11. Provide steps to copy recovered objects to new database on SQL server.
Go to SQL Server Management Studio
Create a New Database
Double click on commit.bat
OR
(Run->cmd) Change the path to recovered folder(cd PathName)
Use following syntax:
commit.bat

»

Servername

»

Newcreateddatabase

»

sqlserverusername

»

sqlserverpassword
Press Enter key and all tables will be copied to the new created database
Client Testimonials
I was not aware of the version of my corrupted MDF files, and it actually seemed impossible to perform the recovery of the files. However, Kernel SQL repair automatically detected the version of my files and helped me perform the file recovery swiftly without facing any hassle. "

Ivanna Flores, Barcelona

After performing some upgradation, the server got rebooted which resulted in omission of several MDF files. We tried to fix the issue with Kernel SQL recovery tool and successfully recovered our complete database. "

Kathrin Horle, Gottingen

Tried troubleshooting the inaccessible MDF file error, but couldn't succeed in accessing my files. On client's recommendation, I finally installed Kernel SQL recovery's trial version and repaired my damaged files easily. I instantly applied for the licensed version and got my files back within a short time interval. "

Reid Bauch Sr., Georgia

Kernel SQL recovery is an amazing product for users who are facing SQL errors and wants to repair their files effortlessly. This product saved our team several times form disastrous situations. "

Saul Blick, Manhattan
| Software Features | Trial Version | Licensed Version |
| --- | --- | --- |
| Maintains the structural format of the SQL Server database objects | | |
| Repairs unlimited MDF/NDF files and folders in single attempt | | |
| Recovers oversized MDF/NDF files | | |
| Offers user-centric interface | | |
| Allows restoration of recovered files on user desired location | | |
| Allows preview of the reinstated MDF/NDF files | | |
| | | |
Comments
(13)
Add Comment