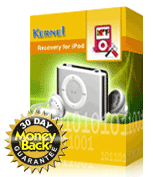 iPod Recovery - iPod Music Data Recovery Tool
Ipod is a Digital music system storing audio and video playlists, photos, wallpapers and documents. Ipod data can be lost or damaged due to numerous reasons such as corrupt Ipod disk, virus and spyware programs, formatted ipod drive, sad face icon error, exclamation mark icon error and frozen ipod and many more. Kernel recovery for Ipods is capable of recovering data from inaccessible Ipods. It makes every possible attempt to recover every damaged file stored within an Ipod drive.
Kernel Recovery for iPod supports iPod recovery from all Apple iPod models such as iPod Shuffle, iPod Nano, iPod Mini, iPod Touch and iPod Classic. Be it a hard drive based, touch screen or video capable iPod, it provides the user with all possible data after recovery.
Kernel Recovery for iPod is embedded with three recovery modes, which enables users to scan inaccessible iPods according to their specific requirements. These recovery modes are Standard, Advance and Raw Scan. Standard scan mode is used to perform iPod recovery for recently deleted files and is the fastest recovery mode of the software. Use Advance scan in cases like iPod is not recognized. Raw mode is suitable for situations when the iPod is recognized as drive letter.
Download FREE Evaluation version of Kernel for iPod Recovery to test the working and features of iPod Recovery software. The demo version is fully functional and displays the preview of recovered items but due to some limitations, it doesn't save the recovered items. To save all the recovered items, one needs to purchase the full version of this efficient tool.
Features of iPod Recovery Software

Fast and precise iPod recovery

Full support to iPod recovery from all models of Apple iPod

Embedded with three recovery modes i.e. Standard, Advanced and Raw Scan

Performs efficient iPod recovery in conditions like frozen iPod, iPod restored, iPod sad face icon, iPod exclamation mark and bad iTunes auto-sync
Supported Versions : iPod Recovery

All Apple iPod models ; iPod Shuffle, iPod Nano, iPod Mini, iPod Touch, iPod Mini, Hard drive based, touch screen and video capable iPods
System Requirements : iPod Recovery
Operating System: Windows 8, Windows 7, Vista, XP, 2003 and 2000
Hardware Requirement: Minimum 64MB of RAM
Online Chat Support
Product Screenshot for iPod Recovery

Enlarge Screenshot
Online Product Demo - iPod Recovery



Frequently Asked Questions
Product Awards
Client Testimonials - iPod Recovery