NSF to PST Conversion - Convert NSF to PST Tool
Kernel Lotus Notes to Outlook is exceptional software that efficiently converts Lotus Notes NSF file to Outlook PST file. This NSF to PST conversion software is very much capable of converting Lotus Domino Server user mailboxes to PST file that can be accessed with Exchange Server and Outlook. This NSF to PST conversion tool migrate entire Lotus mailbox data that include emails, attachments, address Books, Journals, Calendar and others. Kernel NSF to PST conversion recreates same folder structure of NSF file to PST file which becomes easy to view in MS Outlook.
The NSF to PST conversion software is equipped with various advance features that play a very important role in converting Domino server user mailboxes to Exchange. In fact, the software is extremely valuable for system administrators as well as home users who want to convert NSF files to PST at faster pace. Known for its quality and distinguished features, this NSF to PST migration software is definitely suitable choice for administrators and individuals.
It has two NSF to PST email conversion modes: Standard and Advanced mode. The advanced mode allows conversion of multiple NSF files of Lotus Notes to MS Outlook PST with the help of CSV file. Consequently, CSV file contains file path, saving type and saving location. With a user friendly interface and interactive environment, this NSF to PST converter software allows you to save the previewed file in RTF and Text format. Though, it actually depends upon the user, whether he or she want to preserve the formatting of converted NSF files or not. In addition, it is important for user to define the speed and quality of saving the converted emails.
Note: Domino Server files cannot be added in CSV file format.
Generally, need for NSF to PST conversion software arises when following situations arise:
Organizations want to switch from Lotus Domino Server environment to MS Exchange Server environment
An individual wants to convert NSF file to PST file
Lotus Domino server is infected with spyware and virus
NSF file has to be viewed in MS Exchange mail environment
NSF to PST conversion tool will help you in all the above cases whether you want to migrate from domino to exchange, view lotus notes emails at your home computer with MS Outlook or want to directly convert selected user accounts of Domino Server Mailboxes to Exchange User mailboxes. This NSF to PST migration tool allows you to convert Lotus Domino files to Exchange Server and view them using Outlook.
You can check the software's performance and preview the converted items by using free trial version of NSF to PST conversion tool. Free trial version can be operated for unlimited period, but at the same time has following limitations:
Offer only "Save in PST" saving option
Allows conversion of just a single NSF file
Converts 10 emails from each folder of NSF database
After analyzing software features for free, you can purchase the fully functional NSF to PST conversion software to save the entire converted emails to .PST or .EDB file format.
Note : Lotus Notes and MS Outlook should be installed on the host computer where you are performing the NSF to PST conversion.

Features of NSF to PST Conversion - Convert NSF to PST

Convert unlimited NSF file: Saves time by converting unlimited NSF file(s) at a time.

Convert Domino Server Mailboxes: Easily convert Domino Server User Mailboxes to PST or Exchange Server. Kernel software gets connected to the domino server and lets you convert the user mailboxes directly from the server to MS Exchange server or PST.

Save in PST: Save the converted NSF file in new PST file.

Save in Exchange Server: Saves directly converted NSF files in Microsoft Exchange server.

Easy to use GUI with user friendly software navigation

Convert emails, contacts, calendar, email properties (To, CC, Bcc..), tasks, journals, attachments, encrypted emails, folders and sub-folders.

Provide new GUI and easy navigation features.

Offer two sophisticated email conversion modes: Standard and Advanced mode.

Offer two sophisticated email conversion modes: Standard and Advanced mode.

Allow user to save converted email files in HTML, TEXT, RTF low quality and RTF best quality formats.

Permits user to change Outlook's folder name corresponding to Lotus Notes mailbox folder.

Selective file conversion is also possible with the given filter options such as specific date range.

Allow user to exclude "All documents" folder from Lotus Notes to Outlook to eliminate the duplicity of files.
Supported Lotus Notes Versions - NSF to PST Conversion

Lotus Notes 8.5, 8.0, 7.0, 6.5, 6.0 & 5.0
Supported MS Outlook Versions

All versions of MS Outlook with 2013
Supported Domino Server Versions

Domino Server 8.5, 8.0, 7.0, 6.5 and 6.0

MS Exchange Server 5.5, 2000, 2003, 2007, 2010, 2013
System Requirements for NSF to PST Conversion
Operating System ( 32bit/ 64bit ): Windows 8/7/Vista/XP/2003/2000 and Windows Server 2012/2008 R2/2008/2003
Pentium Class Processor
64 MB RAM (128 recommended)
10 MB for Software installation
Disk Space - Enough space to store the results
Online Chat Support
Product Screenshot - NSF to PST Conversion

Enlarge Screenshot
Online Product Demo - NSF to PST Conversion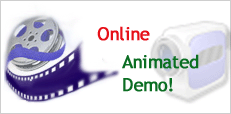 FAQ for NSF to PST Conversion
Product Awards - NSF to PST Conversion

View Awards »
Client Testimonials - NSF to PST Conversion