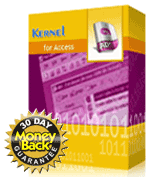 Access Recovery Software - Repair corrupt .mdb files- Access Repair Tool
Kernel for Access now provides access to corrupt and damaged Access databases. Kernel for Access recovery software repairs and recovers corrupted access database files (MDB and ACCDB). Access database files are likely to get damaged due to unexpected system shutdown or software crash, virus corruption and media corruption. Kernel for Access restores data in all such corruption states.
Error messages faced during corruption are:
"Unrecognized Database Format"

"The database ... needs to be repaired or isn't a database file"
"The Microsoft Jet database engine could not find the object"
Kernel for Access can be used to easily handle all such issues. This access recovery software is equipped with two recovery modes:
1.Standard Mode
2.Template Mode
Standard Mode: The Standard mode repairs corrupt access database files in case of normal file corruption. The access file recovery software enables you to browse the corrupted files and then rebuilds them into accessible database files.
Template Mode: The Template mode proves beneficial during major corruption issues where the internal database structure gets lost. In such cases, the access recovery software requires a backup copy of the database. This acts as a template which then helps to restore the lost database structure. A layout of the provided database is created and both the databases are synchronized to restore them into usable database file.
Access recovery software comprehensively scans the damaged database and extracts database structure and table data from the MDB file. It displays preview of the database structure and its content as the analyzing process gets completed. The software uses advanced QFSCI algorithm to search and retrieve data from the corrupted access database files. This ensures complete data recovery. The integrated Live Preview technology helps in displaying preview of the damaged database.
The Access Recovery software has a user friendly interface which allows technical as well as non-technical users to easily work with the tool. You can also recover lost and forgotten passwords of access database by using our Kernel for Access Password Recovery tool.
Features of Access Recovery Software

Effectively repairs corrupt MDB and ACCDB files

Recovers corrupted as well as deleted data from Access databases

Retrieves table structures like auto number, field size, primary key and many more.

Memo data, OLE data, table relationships and original date formats are successfully restored by the software.

Data recovery after the loss of MBR, Boot sector or File Allocation Table

Use of Live Preview technology to retrieve the database structure from corrupt database and displays the Live Database Preview.

Recovers data from password protected Access databases (even if password is not known to the user).

Live Update feature available to ensure that users always have latest version of the tool with best recovery procedures.
Supported Versions for Access Recovery Software
MS Access 2010/2007/2003/XP/2000/97/95 databases
System Requirements:
Operating System: Windows 95/98/ME/NT/2000/XP/2003/Vista/7/8
Minimum 64MB of RAM
Online Chat Support
Product Screenshot - Access Recovery

Enlarge Screenshot
Online Product Demo for Access Repair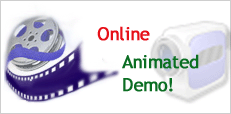 Frequently Asked Questions
Product Awards - Access Recovery

View Awards »
Client Testimonials - Access Recovery