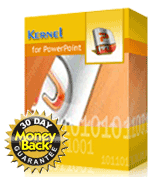 Repair corrupt PowerPoint presentations - PowerPoint Recovery
PowerPoint presentations are well-known to all and everyone use it. Along with a number of advantages, many people face presentation corruption problems also. While working with such corrupt PPT files users become annoyed because they may lose their important data enclosed within the PPT files. But, with the help of PPT recovery software like Kernel PowerPoint Recovery you can resolve all minor & major PowerPoint corruption issues.
MS PowerPoint is popular as the best presentation application program that is used worldwide by corporate, instructors, educational institutes, marketing firms, PR professionals to communicate with their audience. Generally, PowerPoint presentations are used by people for various purposes by including text, images, animations, block diagrams in simple steps which can be easily understood. However, there is high risk of these presentations getting damaged or corrupt due to virus attacks, unforeseen system shutdowns, storage media corruption or power failures.
In such cases, you either require designing the presentation again or may require putting an effort for file recovery. You should use Kernel for PowerPoint repair software to repair and recover your damaged or corrupted power point presentations. Kernel PowerPoint recovery software efficiently repairs .ppt, .pptx, .pps and .ppsx files that got damaged due to bad sectors in the hard disk, abrupt system shutdown, accidental PPT file deletion, malicious virus attacks, media corruptions and software crashes.
The PowerPoint Recovery software tool proficiently repairs the corrupt PowerPoint files with the help of embedded advanced QFSCI (Quick File System Component Identification) algorithms. The Kernel for PowerPoint repair software restore deleted master slides, images, objects, animations, tables, sound files, media player files, basic shapes, word art, stars and banners, callouts and every image object that has been utilized in the creation of presentation files.
Kernel for PowerPoint recovery tool has two PPT file recovery modes; Standard mode and integrated mode.
Standard mode is used for recovering the PowerPoint files having major corruption even when they are big in size. The whole recovered PowerPoint content (images or objects) in some complex cases may be displayed in raw formats which need little efforts to be reorganized as a fresh presentation file.
Integrated mode is used for resolving PowerPoint corruption issues when the data is not rigorously corrupted and it also maintains original structure of the presentation file while recovery. The recovered files, objects, content and images are saved and extracted in a separate folder by the PowerPoint recovery software.
Important: For using Kernel PowerPoint Recovery software successfully, it is suggested that your computer system should have the same MS Office version installed in which the corrupt presentation file was originally created. The higher version of the office can also perform efficiently but might not give satisfactory result.
Suppose, you have corrupt presentation file of PowerPoint 2000 then MS Office 2000 or upper version should be installed on your computer system.
Features of PowerPoint Recovery software:

Recover Data and other Objects:
Recover deleted or inaccessible text, formatting and other embedded objects from the corrupt PPT, PPTX, PPS and PPSX files.

Recover Animation and Structures:
Successfully recovers complete animation and sound effects, images, graphics and OLE objects, and data structures.

Recover deleted Slides:
Retrieve deleted master slides and slides, headers and footnotes, and hyperlink fields.

Two modes of Recovery:
Well integrated with two recovery modes: Standard mode and Integrated mode

Easy to use GUI:
Nowadays, available with a more interactive and simple GUI.
Supported Versions for Powerpoint Recovery
MS PowerPoint versions: 2010/2007/2003/2002/XP/2000/97.
System Requirements for Powerpoint Recovery
Operating Systems: Windows 95/98/NT/2000/XP/2003/Vista/7/8.
Minimum 64MB of RAM
Online Chat Support
Product Screenshot for Powerpoint Recovery

Enlarge Screenshot
Online Product Demo - Powerpoint Recovery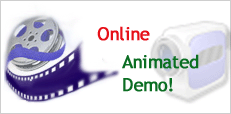 Frequently Asked Questions
Product Awards - Powerpoint Recovery
Client Testimonials for PowerPoint Recovery