Restore Exchange data from a backup
Any mishap to the Exchange Server is a critical concern, as the consequences are more alarming and profound. Well, there's a one stop solution offered by Kernel for Exchange Server tool which enables recovery, conversion, import/export and refined search. The tool also facilitates backup recovery directly from the backup files and hence, terminates the need of any secondary backup. This backup can be based on user's preference that is it can be full recovery or selected recovery. And the tool ensures a quick database restoration without any halt.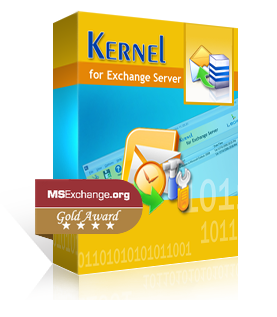 Recover data from backups created with Symantec, NT Backup, VERITAS, HP and CA Arcserve backups.
Can recover backups with unlimited data or mailboxes.
Convenient Search options for individual items or messages, attachments or other exchange data from backups and restore them successfully.
Fast accomplishment of restoration process.
Search and restore deleted emails from backups which are also highlighted in red color for quick retrieval.
Allows preview of items from backups and their multiple folders to verify and restore the data as per user's requirement.
Turn down the need for secondary backups or brick level backups.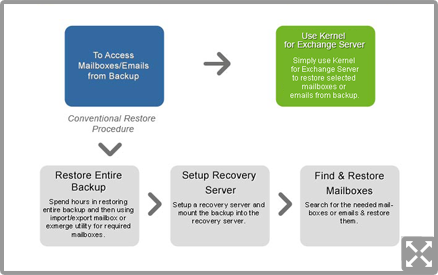 MS Outlook:
MS Outlook 2016/2013/2010/2007/2003/2002/2000/98/97
MS Exchange Server:
MS Exchange Server 2016/2013/2010/2007/2003/2000/5.5/5.0
Windows OS Platforms:
Windows 10/8.1/8/7/Vista/XP/2000/98/NT/95
Windows OS Platforms:
VMware® Server 1.0x, 2.x
VMware® Workstation v6.0x for Windows
Microsoft® Virtual PC 2007
VMware® ESX 4.0, ESXi
System Requirements:
Pentium Class Processor
Minimum Memory : 2 GB
Disk Space : Minimum 100 MB Free Space
Nicolas Granata

(Microsoft MVP) Argentina
"If you work as Exchange Server administrator, sometimes you face certain situations where you have to do a recovery for a mailbox for different reasons as can be hardware failure, recover information or a disaster recovery."
View full review...
Krishna Kumar

(Microsoft MVP) Bangalore
"Exchange Server is one of the most business critical applications in an organization; accessed by everyone in the organization, everyday and round the clock. It can be from their outlook client, tabs, mobile devices etc."
View full review...