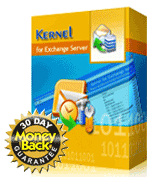 Exchange Server Recovery - Exchange Server Data Recovery & EDB Repair Tool 13.04.01

If the software demo does not shows all the required data or if it crashes then please contact us at support@nucleustechnologies.com and we will repair the file for you without any charges.
Kernel for Exchange Server Recovery is proficient, quick and result-oriented tool to repair Exchange Server databases. It quickly recovers corrupt EDB and STM files from all versions of MS Exchange Server. Exchange Server Recovery tool is designed to fix all types of Exchange Server corruption including Exchange Dirty shutdown and Checksum errors. It quickly recovers Exchange mailboxes from corrupt, deleted and inaccessible EDB file and restores into PST or EDB files format.
Now software Integrated with highly advanced algorithms, EDB Repair software repairs corrupt EDB file and recovers entire mailbox data such as emails, attachments, images, folders, journal entries, calendar entries, email properties and others items from corrupt EDB and STM files.
The software comprises of two effective EDB repairing modes: Standard Scan and Advanced Scan Mode. User can choose appropriate recovery mode of the software depending upon the level of Exchange Server corruption. Here is a brief overview of both modes:
Standard Scan: This is the quickest repair mode that extract user mailboxes from damaged EDB database, recover mailboxes, and save it to Outlook .PST files.


Advanced Scan mode: Slower than the first mode, this mode scans the severely corrupt EDB database thoroughly, recover it and then save it in Outlook .PST file.
Evaluation Version- Kernel for Exchange Server Recovery
Kernel for Exchange Server Recovery is available with free evaluation version that can be downloaded before purchasing the Full version. Free version operates just like a complete version and at the same time help user have clear preview of all the retrieved mailboxes and its contents. However, to save the recovered mailbox folders in your system, a user must purchase the full version of the software.
Dirty Exchange Shutdown Repair Software:
Exchange Server gets damaged due to several factors such as –
Unexpected Exchange shutdown
Physical hard drive errors
File size errors
Jet errors
Human errors and malicious virus attacks
In the event of Exchange Server corruption, all user mailboxes mounted on that server becomes inaccessible.
To get rid of those Exchange server problems, Kernel for Exchange Server Recovery tool has been devised. The absolute corrupt Exchange server database is repaired by this Kernel tool. It repairs the corrupted Exchange database and helps user get a complete new working database which can be mounted on MS Exchange Server.
Some of the most common Exchange Server error messages that are easily repaired and fixed by Exchange Server recovery software are:
| | |
| --- | --- |
| Corrupted Header Information | Exchange Dirty Shutdown Errors |
| Exchange Server Error Code 528 | All types of Jet Engine Errors |
| Exchange Server Error 550 | # JET_errBadDbSignature -531 |
| Improper Exchange Server shutdowns | # JET_errDatabaseStreamingFileMismatch -540 |
| All types of "Read Verification Error" | # JET_errConsitentTimeMismatch -551 |
| Deleted Mail Boxes | # JET_errDatabaseDirtyShutdown -550 |
| Unable to initialize the Microsoft Exchange Information Store service. | # JET_errInvalidDatabaseId -1010 |
| "JET_errRecordNotFound, the key was not found" , "Jet_errRecordDeleted". | # JET_errInvalidDatabase -1028 |
| Virus Attacks | # JET_errFileInvalidType -1812 |
| | # JET_errDatabaseSignInUse -1222 |
| | # JET_errDatabaseCorruptedNoRepair -1224 |
Microsoft Exchange server is the multipurpose networking platform for several email users. EDB repair tool stores all incoming and outgoing emails of user mailbox in EDB files. Exchange Database files can get affected due to exceeding the storage limit of EDB files, hardware problems and others.
Whatever be the cause of Exchange EDB file corruption, individual can take the help of a versatile tool like Kernel for Exchange Server Recovery software to deal with Exchange Server corruption issues.
Outstanding features of Kernel for Exchange Server recovery

Very effective in repairing both Priv1.EDB and Pub1.EDB files

Capable of fixing corrupt files and errors caused due to Dirty Exchange Shutdown & other reasons.

Supports email recovery and mailbox recovery from MS Exchange Server 5, 5.5, 2000, 2003, 2007, 2010 and 2013.

Restore Exchange Server database from Exchange Server dirty Shutdown situation

Very well integrated with two repairing modes: Standard Scan and Advanced Scan Mode.

Advanced setting options for filtering the EDB recovery process.

Capable of restoring complete Mailboxes of MS Exchange Server

Recovers images, attachments, drafts, calendar entries, journal entries, appointments, tasks, notes, email properties, Unicode characters, animated text and images from the corrupt MS Exchange server.

Provides user with option to view calendar items in various formats i.e. for 1 day, 5days, 7 days or 31 days.

Recovers even permanently deleted user mailboxes and email items which are displayed in Red color for easy identification.

Free trial version is also available for evaluating its performance.
Supported Versions of Exchange Server Recovery:
Microsoft Outlook should be installed on the computer system.
Microsoft Exchange server versions: 5, 5.5, 2000, 2003, 2007, 2010 and 2013.
MS Outlook: MS Outlook ( 32bit and 64bit )2013, 2010, 2007, 2003, 2000, 98 and 97.
System Requirements for Exchange Server Recovery - Exchange Server Data Recovery:
Operating System ( 32bit/ 64bit ): Windows 9x/Me//NT/2000/XP/2003/Vista/7/8 and Windows Server 2012, 2008 R2, 2008, 2003.
Minimum RAM: 64 MB
Online Chat Support
Product Screenshot - Exchange Server Recovery

Enlarge Screenshot
Online Product Demo - Exchange Server Recovery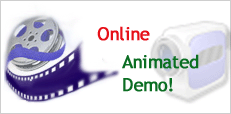 Frequently Asked Questions
Product Awards - Exchange Server Recovery

View Awards »
Client Testimonials - Exchange Server Recovery