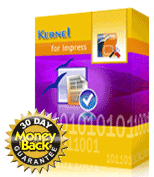 ODP Repair Tool - Repair Corrupt OpenOffice Impress Files
Open Office Impress is an efficient alternative to create presentations but corruption cases have no alternatives. Corruption in ODP files can lead to data loss. Kernel for Impress can be used for recovering data from corrupt and damaged Open Office Impress file types. These files have proved to be an efficient medium to create presentations for meetings, trainings, conferences etc. Sometimes, they are exposed to hardware corruption issues or virus attacks making the data lying within inaccessible. In such situation, you can use this software to repair files and get you valuable data back.
Kernel for Impress provides instant ODP file repair from Open Office Impress files. Text, images, slides, master slides, animations, embedded objects, Unicode characters, text formatting are successfully recovered and saved in new and healthy Impress file.
Free evaluation software of this software is available which helps the users to analyze the software capabilities before purchasing the full version of the software. Free demo software restricts saving of complete data, it displays words 'demo' and 'demo restriction' in place of original text and images. Also, it recovers any three images from the file.
To view and save complete text and images, user needs to purchase full version of the software.
Features for ODP Repair software:

Best ODP repair software with excellent recovery rate.

Supports every version of Open Office.

Repairs heavily corrupt files.
Supported Versions - ODP Repair
Supports all versions of OpenOffice
System Requirements - ODP Repair
Operating System: Windows 8, 7, Vista, XP, 2003, 2002, 2000
Minimum 64MB of RAM
Online Chat Support
Product Screenshot - ODP Repair

Enlarge Screenshot
Online Product Demo - ODP Repair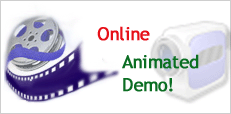 FAQ - ODP Repair
Product Awards - ODP Repair
Client Testimonials - ODP Repair