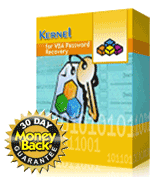 Recover lost or forgotten VBA passwords - VBA Password Recovery Tool
Kernel VBA Password Recovery software allows you to recover passwords of the encrypted or password protected VBA files. The software completely recovers multilingual passwords from the .doc, .xls, .xla files.
The VBA password recovery software efficiently recovers passwords from the VBA projects created with any version of MS office. The software instantly resets the original password despite of its length and complexity. The software meticulously scans the VBA project and resets the lost password. A new password is assigned to the project which unlocks the password protected VBA project file using the changed password.

You can verify the efficiency and evaluate the performance of the software by downloading the demo version of VBA password recovery software. The DEMO version only displays two characters of the recovered password whereas FULL version of the software displays the complete password.
Kernel VBA Password Recovery supports Password Recovery from VBA projects created using Microsoft Office 2010/2007/2003/XP/2000/97.
System Requirements for VBA Password Recovery
Operating System: Windows 95/98/NT/2000/XP/2003/Vista/7/8
Online Chat Support
Product Screenshot for VBA Password Recovery

Enlarge Screenshot
Online Product Demo for VBA Password Recovery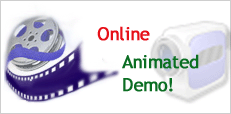 Frequently Asked Questions
Product Awards - VBA Password Recovery
Client Testimonials - VBA Password Recovery